by

Press Release :
Trichy, February 6th, 2017, Multimatrimony.com the No.1 and most trusted Tamil Matrimonial website is proud to launch its mobile app on Android, one of the fastest growing mobile platforms worldwide, to empower the younger generation with the ability to find and connect to prospective matches anytime, anywhere.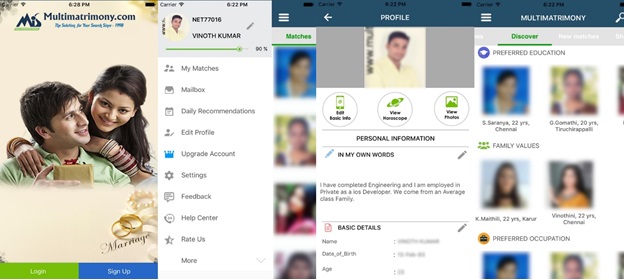 Once you download the app, you can search profiles based on your preferences and with a single touch you can contact members directly. You can also refine your search based on personal likes, browse profiles, shortlist them, pass interest to them and do much more. The Android app allows you to engage intuitively, offering members the convenience, flexibility and a wide choice of profiles on the go letting people 'Express interest' and find matches faster than before.
The key features in our mobile app are
 Make free registration and create your profile right through the app.
 Search for suitable matches, refine results, and save favorites for future viewing.
 Login into your profiles to view regular updates and Interests.
 Match your profile with our advanced Match making software.
 Get the 10 important poruthams for star matching.
 View all the profile photos and Horoscopes.
 Get instant notifications – never miss any communication from anyone, ever again!
 View members profiles, photos and phone numbers; send interests or personalized messages directly through mobile.
 Be 100% secure – count on us to keep all your information safe and private.
 Use conveniently – the app is really lightweight and takes less storage space.
We are the top choice for aspiring brides and grooms to find their perfect Life partner, especially for Tamil communities spread over UK, USA, Canada, Australia, Singapore, Malaysia, Arab Countries and so on…
Download our App from https://goo.gl/2gSw3R
About Our Company
Multimatrimony one of the leading Tamil matrimony portal deals with Hindu, Christian, Muslim Brides & grooms. It was started at Trichy, Tamil Nadu in the year 1998. Our Moto is to build good relationship to lead a Happy Married Life. From the day of launch it remains in the front of being the most trusted and successful Tamil Matrimony portal to join hands for more than a Lakh of couples in all religion and castes.
To Contact us
Multimatrimony.com
4A, Melapudur Main Road, (Near Subway)
Trichy – 620 001, Tamil Nadu, INDIA.
Mobile: 98432 46001, 99439 15001